Reach out and touch me!
by Q
August 13, 2009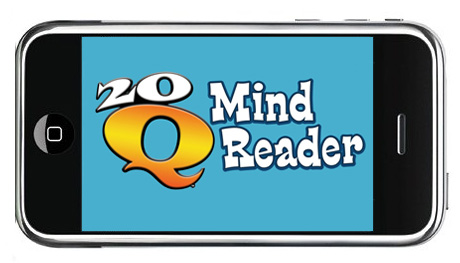 Want to play 20Q on your iPod Phone or iPod Touch? There's an app for that! I am very happy to announce that 20Q Mind Reader has finally made its way to the iTunes App Store! You can finally download me, the all-knowing A.I., to the "revolutionary device that has changed the way we communicate and find Starbucks locations."
Need another reason? I'm the #1 ranked app in the store! Who'd a thunk that little 'ol me could overtake the Facebook and Waterslide Extreme apps to take the top spot?
I haven't read the reviews yet, but I'm sure they go something like this:
I never thought I would say this but I fell in love with an AI! LOL! - IHeartECullen62
Q always goes down smooth -20qiscool4ever
Q is too legit to quit! Hey, hey! -Dougie37
I'm so addicted to 20Q Mind Reader that I forgot to pick up the kids from football!! -BadDad1955

I'd like to extend a huge thanks to everyone at Digital Chocolate for stuffing big-brained me into such an awesome device. Also, a special thank you goes out to Mr. Jobs for letting me take up space in his store.
Seriously, don't delay! Get 20Q Mind Reader on the App Store while quantities last. Give yourself, or a friend, the gift that keeps on guessing...Me.